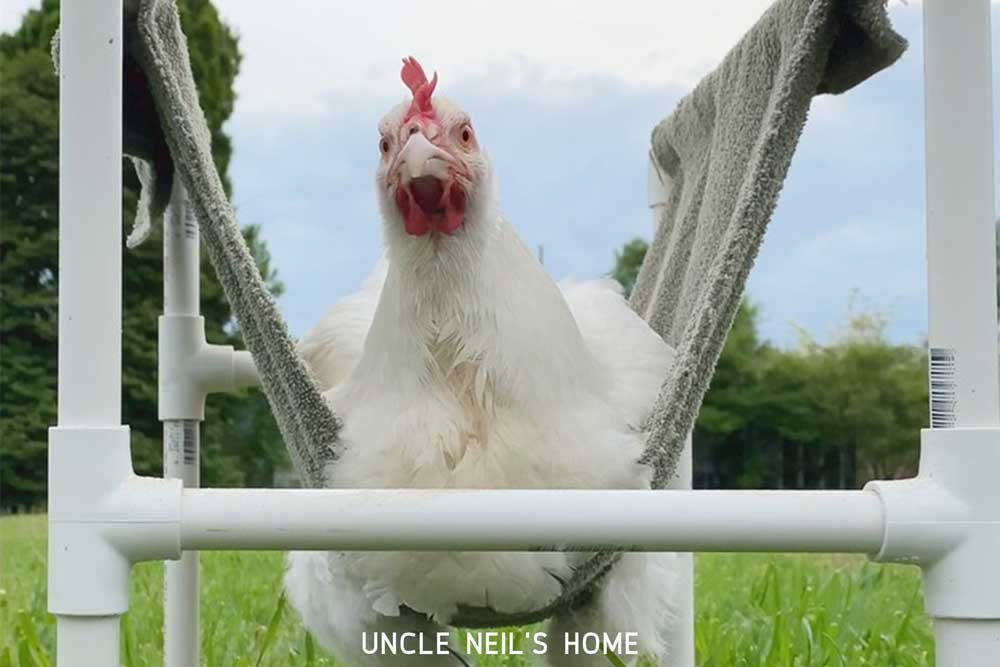 Cora's story
Cora was liberated from a live market in Queens, NY during Kaporos in September of 2020. Kaporos is a religious ritual that takes place annually during Yom Kippur in which practitioners use chickens "as Kaporos" to abolish their sins. They do so by swinging birds by their wings around their heads, saying a prayer, and then slaughtering the bird as a means to abolish their sins by proxy. Animal Rights Activists attend the livemarkets and liberate as many birds as possible each year. Cora was liberated and we offered her and her 9 other siblings a safe landing at Uncle Neil's Home.
When Cora arrived, he was in rough shape. She is a Cornish Cross chicken, and her breed is used in the industry as a "broiler" or "meat" chicken. Broilers are genetically bred to grow twice their size in a short period of time, therefore, chickens who are rescued live very short lifespans because their damaged bodies cannot sustain a healthy life. When Cora arrived at the sanctuary, she received immediate medical care and we nursed her back to health after a very rough start to her life.
One morning, we suddenly found Cora unable to walk. Her right leg had twisted up into her body and she was unable to use it. We rushed her to the hospital and we were told that due to the living conditions and negligence that she was forced to endure at the factory farm where she came from prior to her liberation, her bones were permanently damaged. We built Cora a wheelchair and now she gets around with ease and nothing can slow her down! Other than her injured leg, Cora is happy and healthy and living her dream life at UNH with her flock.