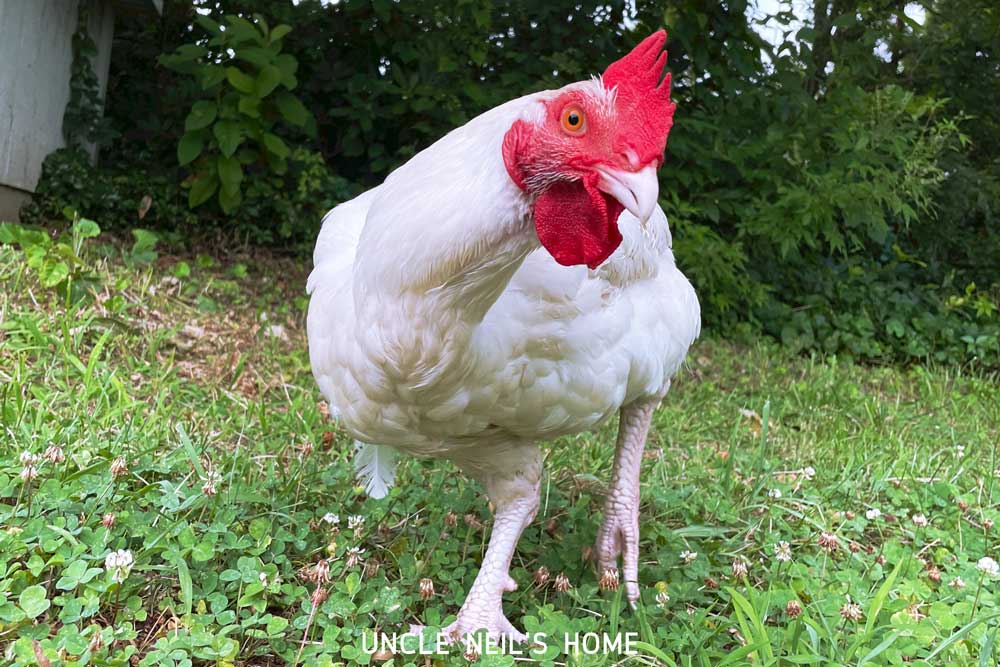 Chippy's story
Chippy was liberated from a live market in Queens, NY during Kaporos in September of 2020. Kaporos is a religious ritual that takes place annually during Yom Kippur in which practitioners use chickens "as Kaporos" to abolish their sins. They do so by swinging birds by their wings around their heads, saying a prayer, and then slaughtering the bird as a means to abolish their sins by proxy. Animal Rights Activists attend the live
markets and liberate as many birds as possible each year. Chippy was liberated and we offered him and his 9 other siblings a safe landing at Uncle Neil's Home.
When Chippy arrived, he was in rough shape. He is a Cornish Cross chicken, and his breed is used in the industry as a "broiler" or "meat" chicken. Broilers are genetically bred to grow twice their size in a short period of time, therefore, chickens who are rescued live very short lifespans because their damaged bodies cannot sustain a healthy life. When Chippy arrived at the sanctuary, he received immediate medical care and we nursed him back to health after a very rough start to his life.
At about 9 months old, Chippy started to exhibit concerning symptoms that affected his mobility in his left leg. Our veterinarian concluded that Chippy is possibly suffering from a common disease among chickens called Marek's disease. He is currently happy and healthy, and he receives individualized care and special attention to mind his medical issues. Ultimately, he is in great spirits and you would never know that there is anything wrong! Chippy is strong, resilient, and incredibly loving, and we're so honored to have him here with us at UNH.